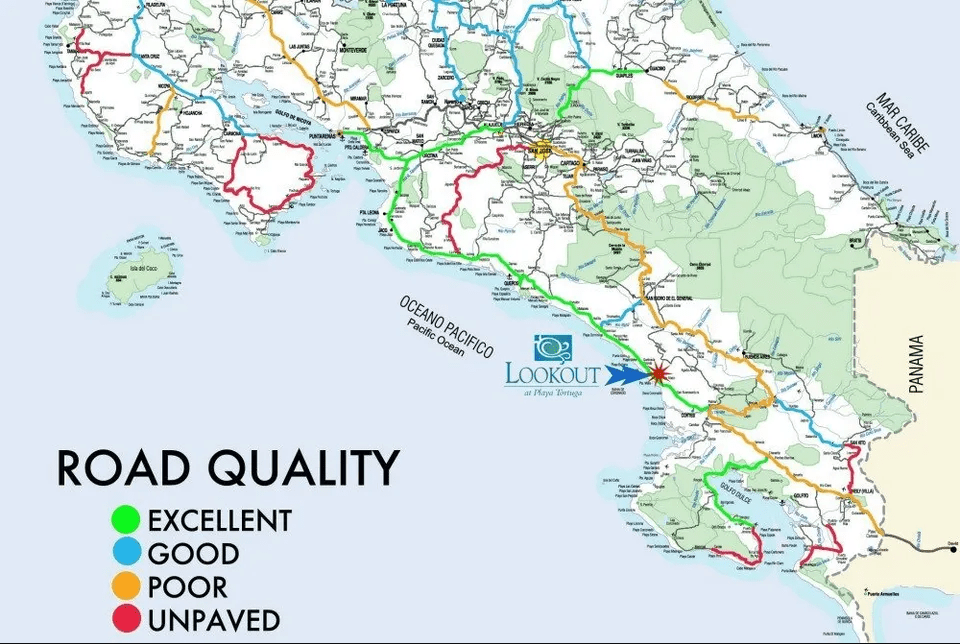 Getting to Ocean Breeze is easy…let us help you book your car or a private coach. Contact us and we'll be happy to assist you.
Costa Rica does have a great bus system, but we strongly recommend renting a 4×4 vehicle. Can you get here by bus or 4×2? Yes, it is possible, but limits what you can see and do once you arrive.
Outside San Jose, locations are spread out. Walking to locations involves hills and highway stretches. A 4×4 gives you the freedom to explore when you want and where you want.
For travel times and distances from points in Costa Rica you can use different tools. Examples are yourtravelmap.com , waze.com or googlemaps.com . We think Waze works the best. The GPS Coordinates are: 9.081584,-83.6609893.
Book Now
There are two main routes from San Jose, but we recommend the new toll highway (Hwy 27) & coastal road (Hwy 34) which takes 3.5 to 4 hours from San Jose International Airport (Green line on map above).
Travel west on Route 1 beside the airport for about 7.5 kilometers. Just past the Dos Pinos building on the south side of the road, take the exit on the right to Radial El Coyol. Continue up the ramp and over Route 1, continuing straight through the roundabout. When you reach the second roundabout, merge onto Autopista José María Castro Madriz/Route 27 toward Escazu/Orotina/Jaco. Route 27 is a toll road, so best to have about 2000 colones with you. Just after the third toll booth (approx. 58 kilometers) on Route 27 exit Route 34 toward Jaco. You are now on the Costanera highway. You will travel approximately 170 kilometers to our exit. You will pass through Dominical, Uvita and we are just passed marker 175 across from the Century 21 building. You will come 200 meters up the road (Calle Paraiso) and see a set of white iron gates. Turn right into the driveway and you have arrived…and that calls for a cocktail.
Book Now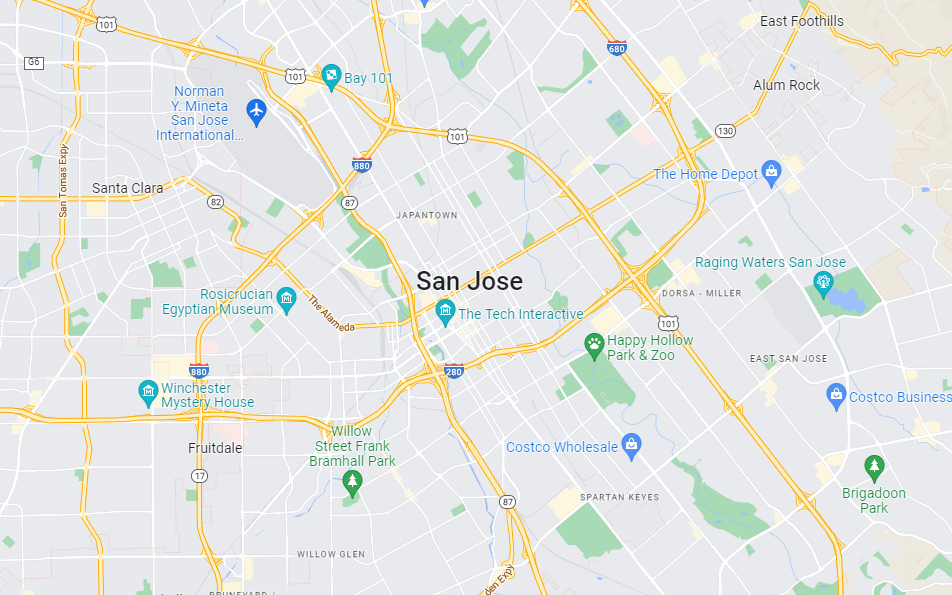 If you don't want to drive yourself, a great option is to let us arrange a private van to pick you up at the airport and bring you directly to the resort. The 3-3.5 hour drive is beautiful and you'll be able to enjoy the changing scenery as you drive through the mountains to the ocean. Our vans feature bilingual drivers, WiFi and air conditioning. The price starts at $240.00 for up to 4 people. Larger vans for larger groups are available. Once at Ocean Breeze, we can arrange for your rental car to be dropped off at the hotel at your leisure.
Contact Orlando or Bryan at Ocean Breeze to arrange your private transportation.
Another option is to take the Easy Ride Shuttle from San Jose to the village of Ojochal. The upside is that the ride is relatively inexpensive (currently $59.00 pp to Ojochal and $65.00 pp to return to SJO). The downside is that Easy Ride shuttles only pick up from San Jose hotels. We suggest taking a free hotel shuttle to the Hampton Inn & Suites SJO and picking up Easy Ride from there. You will need to reserve your seat and identify the hotel pick up place before arriving in Costa Rica.
Easy Ride estimates the travel time with stops at around 5 hours. The shuttle will drop you off at the Pancito Cafe in the village of Ojochal where you can call Ocean Breeze to arrange transportation to the resort (just a couple minutes away).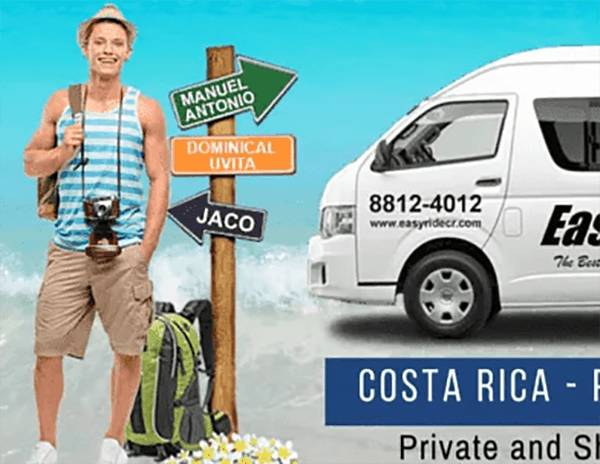 If you prefer to fly, Sansa operates daily non-stop commuter flights from Juan Santamaria National Airport in San Jose to Palmar Sur (25 min to Ocean Breeze) and Quepos (1 hour to Ocean Breeze). Flight time to Palmar Sur is 47 minutes and to Quepos is 30 min.
Rental cars are available at both airports, but we strongly recommend that you reserve your vehicle in advance. Advance reservations are required and luggage restrictions apply. Check information and make reservations at: www.flysansa.com
Contact Us